Thank you for visiting Little House in the Suburbs. If you like what you see, please SUBSCRIBE.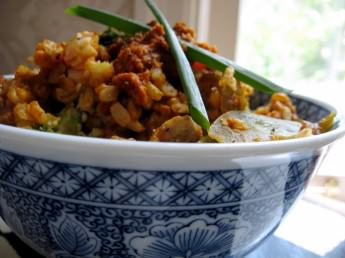 This is a restaurant recipe cut down a bit, but it still makes a whole lot of fried rice. It's vegetarian, but if you prefer you can go vegan and remove the eggs, or go carnivore and substitute your favorite meat for the tofu. I often substitute the vegetables I have on hand for the ones listed here. Just aim for some green and some red or orange or yellow to make it pretty and nutritious.
A recipe for Red Chili Paste follows the Thai Fried Rice instructions, but you can buy this ready-made in most full-size markets. The recipe here makes enough for this recipe plus enough to spice up some more dishes. The amount you use will vary depending on your family's and friend's tolerance for heat. Just start small and keep tasting. If you are brave enough you can bring it up to true Thai levels. It keeps well in the freezer.
Thai Fried Rice
2 packages of firm tofu
2 T. chopped garlic
1/4 cup honey
1/4 tsp. salt
Vegetable mix:
1 medium onion, sliced
1 cup green chilis (thin slices)
1 large red bell pepper (thin slices)
1 bunch broccoli florets and diced stems
1/2 lb. bean sprouts
1 bunch green onions, sliced
1/2 cup chopped cilantro
1/2 batch Red Curry Paste or to taste, this stuff's HOT
5 beaten eggs
1/4 cup soy sauce
7 cups cooked rice (I use brown rice)
Drain tofu. Slice into 1/2″ slices and fry in a skillet with oil just deep enough to barely cover until golden on both sides. (See my post on how to fry tofu). Remove from oil and drain. Cool and cut in 1/2″ cubes and simmer with garlic, honey and salt for 10 minutes. Set aside.
Heat oil in wok or skillet. Add onion, chilis, bell pepper & broccoli. Cook until onion loses its raw taste. Add curry paste (go slow and taste before adding the full half batch) and stir. Add tofu and cook 1 minute. Add rice. Add bean sprouts, green onion, and cilantro. Add 1/4 cup soy sauce. Heat through.
Make a big omelet from the beaten eggs, cut in thin strips. Garnish with the omelet strips.
Red Curry Paste
2 Tablespoons crushed red pepper flakes
2 large onions, chopped
2 teaspoons black pepper
4 teaspoons cumin
1 teaspoons ground coriander
2 teaspoons salt
grated rind of one lemon
2 Tablespoons chopped garlic
2 Tablespoons vegetable oil
2 teaspoons turmeric
1/4 cup paprika
1 tsp. cayenne pepper
Process in blender or food processor until smooth.
Store in refrigerator for up to a week or in the freezer.
Disclaimer: This post may contain a link to an affiliate.